2021 Certified Nurses Day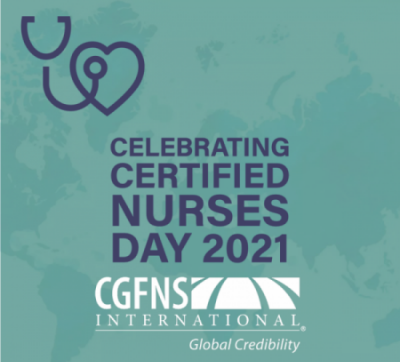 On 19 March, CGFNS International celebrates Certified Nurses Day, an internationally recognized day commending certified nurses' contributions to the nursing profession.
This year, CGFNS is pleased to announce its newest certification program for nurses, the Certified Global Nurse Consultant (CGNC), in partnership with the International Council of Nurses. Find out more about the CGNC program here: www.cgnc.cgfns.org.
CGNC is the latest addition to our extensive suite of services designed for nurses seeking to have their knowledge and experience recognized by CGFNS as well as by the leading specialty certification organizations that trust CGFNS to provide accurate and thorough evaluations of their international candidates.
CGFNS' in-house certification programs:
Services for Our Nursing Specialty Partners:
Certified Nurses Day is an annual day of recognition for and by healthcare leaders dedicated to nursing professionalism, excellence, recognition, and service that occurs every 19 March, the birthday of Dr. Margretta "Gretta" Madden Styles, RN, EdD, FAAN, one of the world's leaders in nursing certification. For more information about Certified Nurses Day, visit: www.nursingworld.org/education-events/certified-nurses-day.
Not sure which CGFNS service is right for your career goals?
Try our Help Me to Select Tool or Select a Service by Profession.