2021 World Day for Safety and Health at Work
On World Day for Safety and Health at Work, CGFNS International joins the international community in calling for greater preparedness and response to future crises in order to protect the nurses, healthcare professionals, and essential workers serving on the frontlines keeping us safe.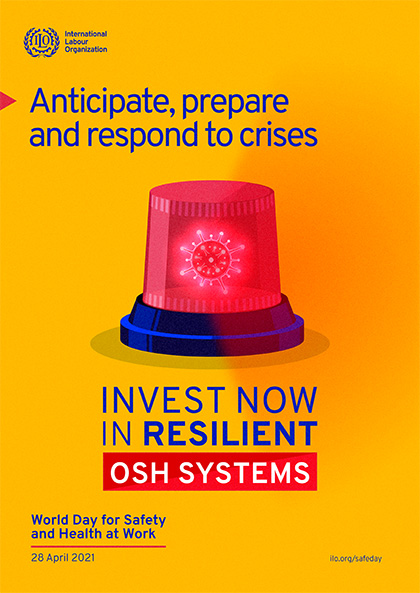 This year's theme, Invest Now in Resilient Occupational Safety and Health Systems, is in response to the COVID-19 pandemic and its global impact, which altered the world in which we both live and work.
What CGFNS is doing in the fight against COVID-19 >>
The annual World Day for Safety and Health at Work on 28 April promotes the prevention of occupational accidents and diseases globally. It is intended to focus international attention on the magnitude of the problem and on how promoting and creating a safety and health culture can help reduce the number of work-related deaths and injuries.
Each of us is responsible for stopping deaths and injuries on the job.
Governments are responsible for providing the infrastructure — laws and services — necessary to ensure that workers remain employable and that enterprises flourish; this includes the development of a national policy and program and a system of inspection to enforce compliance with occupational safety and health legislation and policy.
Employers are responsible for ensuring that the working environment is safe and healthy.
Workers are responsible to work safely and to protect ourselves and not to endanger others, to know their rights and to participate in the implementation of preventive measures.
For information about how CGFNS efforts to promote safe, healthy working conditions across borders, visit the Alliance for Ethical International Recruitment Practices, a division of CGFNS International, at: https://www.cgfnsalliance.org.