World Mental Health Day 2020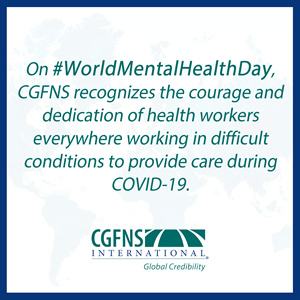 CGFNS recognizes the courage and dedication of healthcare workers everywhere working in difficult conditions to provide quality care during COVID-19.
Nurses were already vulnerable to stress and burnout before the pandemic, which has only magnified the effects of such risks on their mental health, such as anxiety and depression. According to @ICN, 60% of national nursing associations have received consistent reports of mental health distress from nurses in COVID-19 response, but there has been no additional funding for mental health services in 80% of countries since the pandemic began, a WHO survey found.
This a critical workforce issue with implications for the recruitment and retention of nurses even after this time of crisis: The lost productivity resulting from depression and anxiety, two of the most common mental disorders, costs the global economy US$ 1 trillion each year, according to the WHO. The good news is that there is a US$ 5 return for every US$ 1 invested in scaled-up treatment for those conditions. Hospitals, healthcare facilities, and their administrators can also have a significant role in promoting nurse's mental health, as a recent study in Nursing Management found that resilient nurses and those who perceived higher organizational and social support were more likely to report lower anxiety related to COVID‐19.
That's why we are proud to join the WHO this #WorldMentalHealthDay to call for more investment and support mental health services, including for all healthcare workers facing unprecedented challenges from COVID-19.
---
World Mental Health Day is observed on 10 October every year, with the overall objective of raising awareness of mental health issues around the world and mobilizing efforts in support of mental health.
The Day provides an opportunity for all stakeholders working on mental health issues to talk about their work, and what more needs to be done to make mental health care a reality for people worldwide.