CGFNS International, Inc. attended the National Association of Nigerian Nurses in North America's (NANNNA) 10th Annual Scientific Conference on Global Health outside Chicago in Glenview, IL from November 7-10, 2019.
The conference promotes learning and networking among Nigerian nurses from across the U.S. and Canada. This year, it was attended by more than 100 Nigerian and Nigerian-American nurses and several vendors.
Chief Learning Officer Carol Tuttas, PhD, RN and Director of Government Affairs and of the Alliance for Ethical International Recruitment Practices Mukul Bakhshi, JD represented CGFNS International at the conference. Bakhshi presented two sessions during the conference: "The Future of Nursing" and "The Global Nursing Workforce."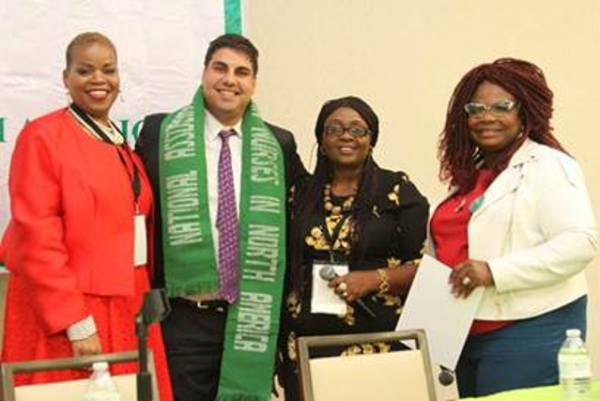 The first session provided an overview of trends and policy in migration and healthcare, including an introduction to CGFNS, the emerging global nursing shortage, and shifts in traditional migration patterns. Bakhshi also covered the implications of visa retrogression and the pending Fairness for High-Skilled Immigrants Act in the context of nurses' ability to migrate to the U.S., as well as CGFNS' latest research on recruitment experiences of migrating health professionals, which was recently published in the American Journal of Nursing. During the second session, Bakhshi presented on the history and role of the CGFNS' Alliance for Ethical International Recruitment Practices division. Key points included:
How the Alliance provides a channel to advance CGFNS' mission and collaborate with key stakeholders, including recruiters, employers, and nurses' associations.
Despite increasing polarization, there is increased attention and a more concerted effort to improve migration issues.
The Alliance certifies recruiters, empowers health professionals, and educates the healthcare and migration communities through voluntary, multi-stakeholder engagement.
Further collaboration is expected between CGFNS and NANNA on issues such as domestic violence, gender oppression, global health, and cultural competence. CGFNS was also invited to the Abuja 2020 International Nursing Conference in Abuja, Nigeria in August 2020. That conference is supported by the Nigeria Federal Ministry of Health, the Nursing and Midwifery Council of Nigeria, the National Association of Nigerian Nurses and Midwives, and the NANNNA.
About NANNNA
The National Association of Nigerian Nurses in North America (NANNNA) is a united organization of all the Nigerian Nurses Associations and Nursing School Alumni in North America working to improve the health and quality of lives of Nigerians at home and abroad. It is estimated that there are over 6,000 nurses of Nigerian origin in the Americas. NANNNA aims to pull them all together to foster personal and professional development, as well as to contribute to bettering healthcare in Nigeria. One of the core missions of NANNNA is to create opportunity for collaboration in the health-care community both locally and internationally to improve the Nursing profession and quality of health of American and Nigerian citizens.