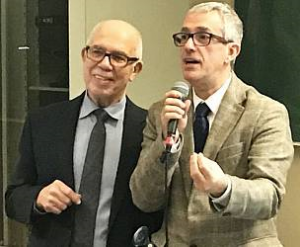 Rome—CGFNS International, Inc., President and CEO Dr. Franklin A. Shaffer, EdD, RN, FAAN, FFNMRCSI, was a featured speaker at the 11th National Congress of the Italian Transcultural Nursing Society in Rome, Italy, where he discussed nurse migration in the context of the United Nations' Sustainable Development Goals.
The Nov. 24 event at Sant'Andrea Hospital — the Sapienza University of Rome's teaching hospital — was divided into sessions on the urgent need to formulate a programmatic framework of the global nursing migration situation and strategies for welcoming migrant nurses into society and addressing their need for assistance. Dr. Shaffer gave the presentation, "Global Nursing Migration: Challenges with Respect to the UN 2030 Agenda for Sustainable Development."
"We are the heartbeat of the world's health system, but our training must be flawless if we want to find space in a work context," Dr. Shaffer said. "Today, the demand for nurses is higher than ever, and in addition to local nurses, migrants contribute to the health and well-being of host communities. If we were to trace the global composition of the nursing workforce in Italy, 6 percent of nurses have received a foreign education. CGFNS brings together over 3 million health professionals from 227 countries and supports the global community with programs and services that promote practical skills and knowledge for health professionals.
"Our profession is the largest and most trusted in health care. Nurses are on the front lines serving world's most vulnerable and are in a strategic position to advance the United Nations' Sustainable Development Goals. The fact remains that nurses are still not at the center of health policy, but this is our next step."
CGFNS Trustee and Transcultural Nursing Association President Alessandro Stievano also gave a presentation during the program regarding trans-cultural nursing and the United Nations' Sustainable Development Goals for Health.
"The importance of having a unique curriculum of studies, even if only containing minimal differences, can be 'spent' around the world and should not be underestimated, especially for health professions giving the greatest mobility to students and researchers," Dr. Stievano said.
Source: Federazione Nazionale Ordini Professioni Infermieristiche (Italian)
About CGFNS International, Inc.
Founded in 1977, to provide credentials analysis for nurses seeking migration, CGFNS International, Inc., based in Philadelphia, is an immigration-neutral not-for-profit organization proudly serving as the world's largest credentials analysis organization for the nursing and allied healthcare professions. CGFNS International is an NGO in Consultative Status with the United Nations Economic and Social Council (ECOSOC) and is a member of the Conference of NGOs in Consultative Relationship with the United Nations (CoNGO). For more information, visit www.cgfns.org.