by Frances Hughes, RN, BA, MA, DNurs, FAAN, Col (ret), JP, CNZM , Director Strategic Global Initiatives, FEN advisory member
Nurses migrate to more developed countries for better career opportunities, and to provide better income and security for family members back in their home countries. This is not a new phenomenon, as it has gone on for decades and does not occur without consequential impact on the countries that nurses are migrating from. All countries deserve strong health care systems, and their citizens deserve the right to have access to nurses in their time of healthcare need. Consequently, destination countries that rely on migrant nurses have an extra responsibility to ensure they uphold the WHO code of ethical recruitment.
Nursing migration brings with it amazing opportunities for the migrant, their families, as well as the new community in which they will work. The migration of nurses from less developed to more developed countries is an inevitable part of globalization, which is why an ethical and supportive framework is needed to ensure that migrant nurses are involved in the development of any policy that will have an impact on their future and decision to migrate.
According to a report in the March 2022 issue of American Journal of Nursing, the International Centre on Nurse Migration (ICNM) estimates that over the next decade, 10.6 million new nurses will be needed to address the existing nurse shortage and replace the 4.7 million nurses who are expected to retire.
An ICNM policy brief, Ageing Well? Policies to Support Older Nurses at Work, lays out a 10-point plan to support older nurses. Its recommendations include:
Ensuring occupational health and safety policies that enable well-being
Redesigning jobs to optimize the contributions of older nurses
Maintaining a pay system that rewards experience and developing succession plans
Avoiding age discrimination
Additionally, many countries must focus on increasing the supply of "new nurses," both to meet the growing and changing demand created by the pandemic, and because of the reduced supply of available nurses.
There is a huge variation in the relative size of the new supply of domestically trained nurses across the high-income countries of the Organization for Economic Cooperation and Development (OECD). Additionally, many low and middle-income countries already had an inadequate supply of nurses, and the pandemic has only exasperated the issue.
Data from the 2022 ICNM sustain and retain global nursing workforce reports states:
18 million health workers are needed by 2030
Globally, 1 in 8 nurses are migrants
70% of global nurse migrants are female
In 2021, 550,000 foreign-educated nurses were working across 36 high-income OECD member countries (up from 460,000 in 2011)
Top countries for foreign-educated nurses (FENs):

200,000 FENs in the United States
100,000 FENs in the United Kingdom
71,000 FENs in Germany
53,000 FENS in Australia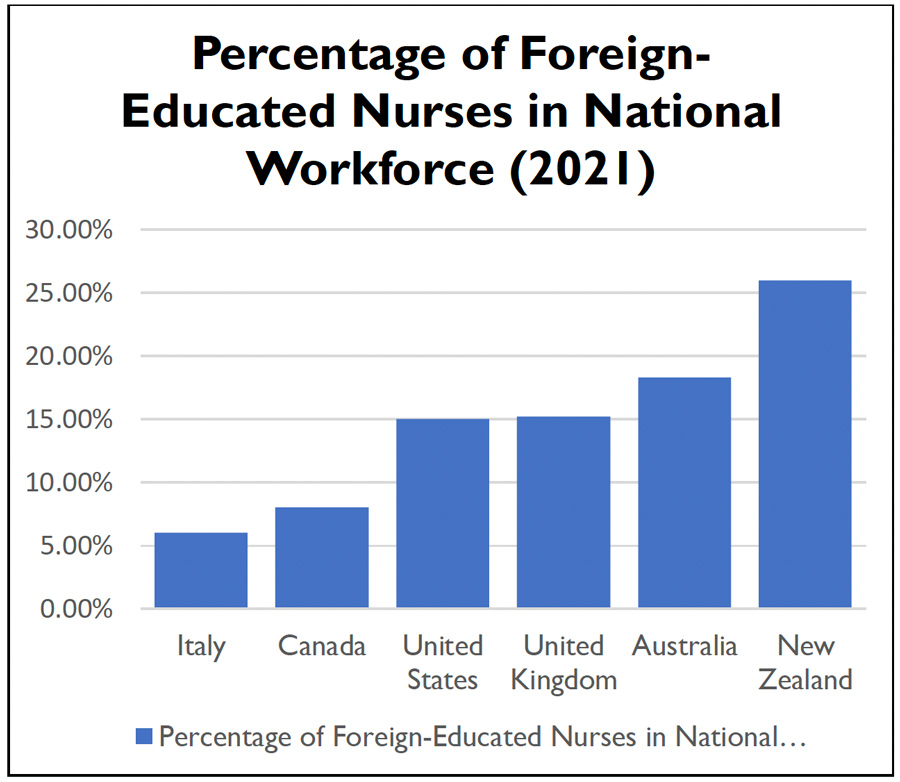 The Contributions of Nurse Migrants
The contributions of nurse migrants around the world are far reaching, impacting both the originating and host countries, as well as the individual nurse and their community.
The range of migrating nurses' contributions include political, cultural and societal, and economic benefits.
Political Impact
Global nurse migration promotes and drives policy development at national, regional, and international levels.
National level

: bilateral agreements for nurse mobility (e.g., UK and Kenya)

Regional level

: regional trade agreements (e.g., USCMA (NAFTA), EU, and ASEAN)

Multilateral level

: high-level multilateral agreements (e.g., The UN High-Level Commission on Health Employment and Economic Growth, UN Global Compacts for Migration and on Refugees, WHO Code of Practice)
Cultural and Societal Dynamics
It's always important to recognize the contributions migrant populations make to society.
Migrant nurses bring new cultural diversity, influences, and competencies
Foreign-educated nurses offer unique language abilities and cultural knowledge that can elevate patient confidence and care
Economic Benefits
Nurses often travel abroad for career opportunities, higher wages, and better working conditions
Nurse migration benefits host countries economically (e.g., contributing to national GDP, tax systems, social security,) and by filling workforce shortages.
Similarly, it also benefits sending countries as migrant nurses often send remittances back home.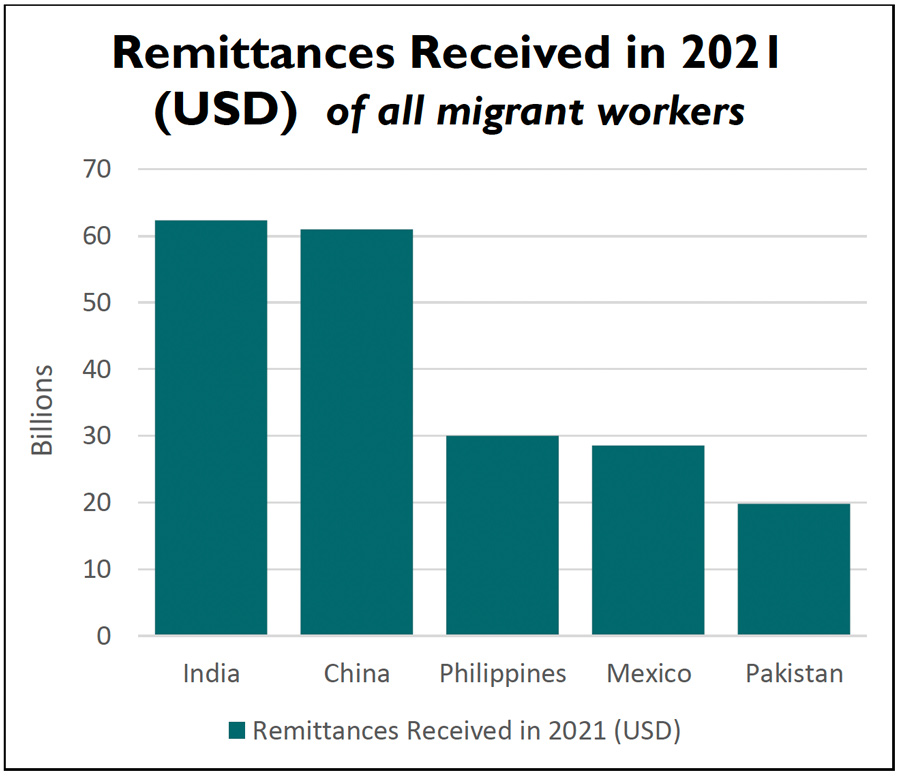 ###
This blog is brought to you by HelpingMigrantNurses.org
HelpingMigrantNurses.org supports and fosters leadership, learning, and empathy between cultures; provides real and meaningful support to help acclimate migrants to new environments; and is grounded in the "lived experience" of migrant nurses.
HelpingMigrantNurses.org works to sustain & retain the international nursing workforce by encouraging advanced nursing degrees, providing professional development, and researching ways to reduce nursing burnout.
HelpingMigrantNurses.org's support is direct to applicants, institutions, and governing bodies around the globe.
References:
Chiamaka, O., Chimereze,C. ( 2020). Brain drain among Nigerian Nurses: Implication to the Migrating Nurse and the Home Country. International Journal of Research and Scientific Innovation 7(1), 15-21
SOWN, 2020; Migration Data Portal, 2021